Nordwall Farm (1044751) - sleeps 8
Nordwall Farm in Reiss near Wick sleeps 8 people in 4 bedrooms. Nordwall Farm near Wick; tucked away on the outskirts of the quaint village of Reiss rests this remarkable pebble dashed farmhouse, Nordwall Farm.

Idyllically positioned within close proximity to both the coast and country of the Highlands of Scotland, Nordwall Farm is a lovely base for a group adventure.

Follow the private driveway through the tranquil grounds and park up at the foot of this marvellous dwelling, kicking off your shoes as you climb a handful of stairs over the threshold and into the hallway space.

Follow the corridor through to the handy utility, fit with a washing machine and tumble dryer, to refresh your wardrobe before entering into the stylish kitchen/diner, tucked away at the rear of the property, and make use of all of the modern amenities provided to prepare a heart-warming meal as your guests recount the days adventures over a bottle of wine at the dining table.

If you're lucky enough to experience the warmer weather take the celebrations outdoors with a spot of alfresco dining on the decking, soaking in the scenic sights across the picturesque countryside that encompasses the property as you toast a glass of fizz to an unforgettable holiday, or if you'd prefer, work off some adrenalin with a leisurely dip in the swimming pool.

Escape the excitement and venture upstairs to enjoy a moment of peace in front of the television in the spacious sitting room, flooded with natural light and framing views across the farmland through the towering aspect window, or soak in the last of the evening sun with a sociable seat in the sun room.

When sleep calls, you're spoilt for choice with four sumptuous double bedrooms to choose from, one thoughtfully laid-out on the ground-floor alongside a contemporary shower room for your convenience, ideal for guests with limited mobility, with the remaining three nestled on the first floor.

Begin each day in style with a luxurious soak amongst the bubbles in the elegant spa bath fit in the contemporary family bathroom, or make use of the handheld shower for a quick morning rinse.

Get better acquainted with your surroundings and take the short journey to Wick where you'll find an 18-hole golf course & Reiss Sands Beach which are a 4 minute drive away .

There are an array of handy amenities including a fabulous selection of shops, pubs and eateries, ideal for night on the town; soak in the sights of the coast with a thrilling powerboat ride, explore the fascinating exhibitions on display at The Wick Heritage Museum or a leisurely stroll around Wick Harbour as you indulge in a portion of fish and chips.

Join the North Coast 500 as it passes nearby, regarded as the ultimate road trip, with a route stretching over 500 miles of stunning coastal scenery around the north coast of Scotland, making sure to stop at John O' Groats en route for an obligatory photograph with the iconic signpost, marking the northernmost point of mainland Great Britain.

Pack up your essentials and spend a fun-filled day out visiting the seaside town of Thurso, where thrill-seekers can tackle some of the best waves in the UK with a session of surfing, or if you'd prefer to stay on land, discover the historic remains of Thurso Castle, dating back to the 19th century, or follow the Victoria Walk atop the dramatic cliffs, offering panoramic views across the tranquil waters.

Whisk your loved ones away on a rural retreat with a stay at Nordwall Farm.

There is a pub 3½ miles from Nordwall Farm near Wick, and a shop is 2¾ miles from Nordwall Farm. You will find the nearest beach 4½ miles.

Holidays at Nordwall Farm run from Saturday to Saturday.

Pets welcome at Nordwall Farm.
Property Details
Pets welcome
: Swimming pool : Off road parking : Ground floor accommodation : Ground floor bedroom : Garden / Patio : Washing machine : Dishwasher : Broadband / WiFi : Bedrooms 4 : Bathrooms 2 : Sleeps 8 people : Pet friendly :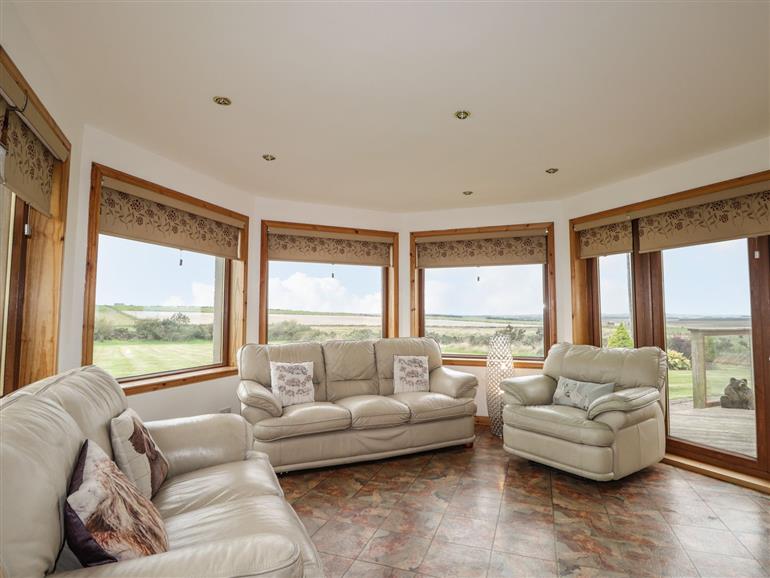 This is the living room at Nordwall Farm in Reiss near Wick
For a better idea of where Nordwall Farm is, you can see
Nordwall Farm on the map
below.
Find out more about Nordwall Farm (1044751), including prices and availability...
You can find more large holiday cottages (that's cottages which sleep 8 or more people) in Caithness. If you want to see more large cottages, have a look at
large cottages in Caithness
.
Towns near Nordwall Farm
---
Nordwall Farm on the map

= Nordwall Farm on the map

= Other cottages near Nordwall Farm
Find out more about Nordwall Farm (1044751), including prices and availability...
Nordwall Farm is in Caithness; should you be on the lookout for a special offer, you can find all the
special offers in Caithness
. It's always worth checking to see what is on offer at the moment.
Do you want to holiday near Nordwall Farm (1044751), you can
see other cottages within 25 miles
of Nordwall Farm; have a look to find your perfect holiday location.
---
These cottages are all within 25 miles of Nordwall Farm
Pet Friendly
Cottage Name
Picture
Sleeps
Area
More

8
Dunbeath, near Wick - Caithness

8
Smerral - Caithness

8
Forss, near Thurso - Caithness

9
Lybster - Caithness
Find out more about Nordwall Farm (1044751), including prices and availability...
No lodges are within 30 miles of Nordwall Farm
---