Coillmor (924141) - sleeps 16
Coillmor in Clonbur sleeps 16 people in 6 bedrooms. Coillmor in Clonbur a family-friendly detached cottage is situated in a breathtaking elevated position overlooking Lough Mask near the village of Clonbur.

With panoramic views of the lake and a backdrop of the mountains, the cottage lies just a stone's throw from the boundary line of Galway and Mayo, making it the perfect base for exploring and discovering all that this area of Ireland has to offer.

Catering for many sizes and variations of groups, this rural cottage boasts six well-appointed bedrooms, five of which come with their own en-suite shower room for added comfort and convenience during your stay.

There is also a kitchen, which is well equipped for catering to your every need.

After a long day walking or cycling around the region, you can kick back and relax with a well-earned glass of wine in the cosy sitting room and enjoy the glorious views of the lough.

Lough Mask offers not just excellent fishing opportunities, but glorious walks and cycle routes along the shore which encompass this stunning scenery.

Just a few miles away is the traditional village of Clonbur, home to a local supermarket and a couple of pubs where you can enjoy a bit of local craic!

Attractions include the historic village of Cong, home to the iconic Ashford Castle, and neighbouring Lough Corrib.

Also within easy reach is Connemara, home to spectacular scenery, traditional villages and culture.

For a day of thrilling excitement, why not spend a day at the Ballinrobe races?

Galway City and its medieval cobbled streets are just over an hour's drive away and boasts a superb selection of craft shops, pubs and restaurants.

For a relaxing break in one of Ireland's most scenic regions, this charming cottage near Clonbur will leave you feeling rejuvenated and refreshed!

The pub and shop are both 5 miles from Coillmor in Clonbur.

Holidays at Coillmor run from Saturday to Saturday.

Pets welcome at Coillmor.
Property Details
Pets welcome
: Off road parking : Ground floor bedroom : Garden / Patio : Cot available : Washing machine : Dishwasher : Sky TV : Bedrooms 6 : Bathrooms 7 : Sleeps 16 people : Pet friendly :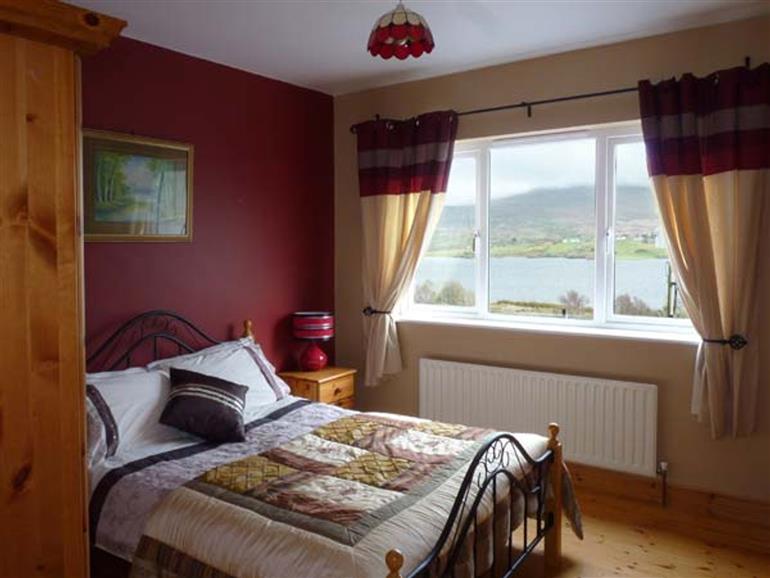 One of the bedrooms at Coillmor in Clonbur
For a better idea of where Coillmor is, you can see
Coillmor on the map
below.
Find out more about Coillmor (924141), including prices and availability...
You can find more large holiday cottages (that's cottages which sleep 8 or more people) in Ireland. If you want to see more large cottages, have a look at
large cottages in Ireland
.
Towns near Coillmor
---
Coillmor on the map

= Coillmor on the map

= Other cottages near Coillmor
Find out more about Coillmor (924141), including prices and availability...
Do you want to holiday near Coillmor (924141), you can
see other cottages within 25 miles
of Coillmor; have a look to find your perfect holiday location.
---
These cottages are all within 25 miles of Coillmor
Pet Friendly
Cottage Name
Picture
Sleeps
Area
More

9
- Ballinrobe

10
- Carraroe

12
- Athenry
12
- Ireland
Find out more about Coillmor (924141), including prices and availability...
No lodges are within 30 miles of Coillmor
---